Face To Face


Whispered words remind me
of the perils of my youth.
That make the pictures in my mind
So torturous, so cruel.
I watch as whips regale you
The Crown of Thorns make you bleed




I see the Cross you carry bearing
Sins...I gave no heed......
To how that might effect you
As I carelessly did the deed.




I have known for all my lifetime
That YOUR LOVE for me was True.
That you would be there waiting for me
When my youthful days were through.




As you stumble from the burden
Of my sin You had to bear.
To give life to me eternal
Did I say I "Didn't Care?"




As you climb up Calvary's hilltop,
It's my prejudice, and pride;
My Promiscuous Behavior
As I arrogantly lied!



But the picture that unnerves me.
Causes me to hide my eyes.
'Twas my hand that drove those nails in
To My Savior, Crucified!




"Oh My God....Can you forgive me?"
As I crumble from the load
And I hear you say, "Ah, Daughter,
It was for you I took this road."




"No one took my Life from ME,
I gave it willingly for You."
"It is finished....the battle's over,
The price is paid....it's very true."




"All I ask is that you love Me
And your neighbor just as well."
"Heaven's Gates will open for you.
There will be, for you, no Hell."




"Soon you will join me in that city
Where there will never be,"
"No more sunset....no more dawning......
Face to Face with Me...and Free."




Karen Payne
March 9, 2004
All Rights Reserved




John 3:16

For God so loved the world, that he
gave his only begotten Son, that
whosoever believeth in him should
not perish, but have everlasting life.
Music:
"Jesus Name Above All Others"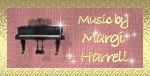 To receive my updates click HERE
All Rights Reserved ~ Remember U R Loved ~ © Karen Payne